How Coronavirus will stimulate a new way of working
As lockdowns show signs of relaxing worldwide, business leaders need to carefully consider the return to the workplace of their employees. Most workplaces are not currently conducive to social distancing or contain the facilities for the new strict personal hygiene that is required in this new world. The new workplace requires adaptation and reinvention. As your trusted guide, Staples can walk you through these new regulations with our workplace experience which will ensure that your business is ready for this new way of working
Keep the workplace open and comfortable
For years, offices have sought to be flexible, open and collaborative spaces. Now, social distancing enforces you to redesigned your floor plan into a space that reminds us of the cubicles from the last century. "Returning to work isn't just about new floor plans and cleaning checklists. People need to be safe and feel comfortable in their new workspace environments. And this can be solved with clean and modern solutions", says Ewout Paulusma, European Category Manager at Staples Solutions. Staples' expert team of workplace designers can help you to adapt your space to one that keeps your staff as safe as possible, whilst working within the latest guidelines.
Visit Staples UK whether you need floor signs, cleaning supplies, protective screens, computer equipment or a whole lot more!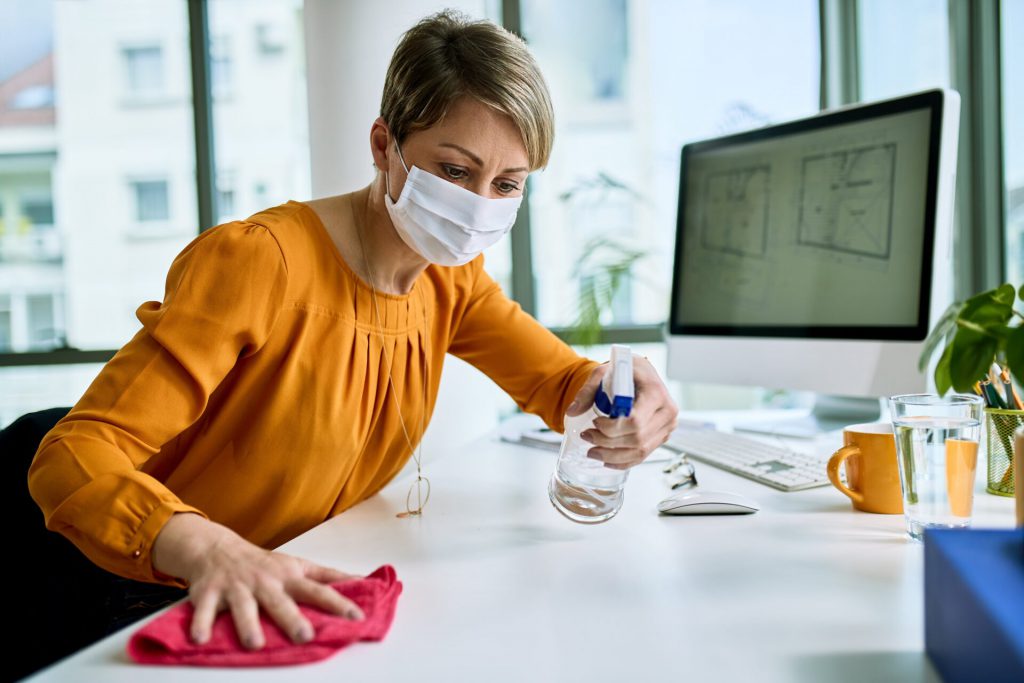 A completely sterile workplace is not practical or realistic, therefore regular cleaning is essential. The need to adjust the cleaning frequency is imperative to fight infection. To ease concerns over cleanliness, organisations need to consider adding cleaning wipes and sprays at each desk and provide throw-away desk mats – especially for flex desks. In our experience providing each employee with a personal cleaning package is perceived as a positive surprise and gives back a sense of control over ones' workplace.
Every organisation will need to educate their employees in the required behavioural change necessary in this new, unfamiliar workplace they have returned to; they can no longer tap their colleague on the shoulder for help. Subtle, clear signage and visual cues can make the proper distance from a colleague obvious for everyone to see. See-through solutions like acrylic protection screens on desks, hanging from the ceiling or connected to the monitors provide a safe environment while not blocking the view from colleagues.
Clean desk policy
A deep clean and de-clutter might sound obvious but it's just the place to start. Leading smart office consultants have long preached the benefits of a sleek, modern workspace and believe that de-cluttering can help save you time and money. Arguably the most important of all – decluttering a workspace makes it easier to clean and less surfaces for infection to linger. We are all learning some crucial things about good hygiene.