The revolution of Personal Space
Your 5 second commute, the flexible work routine and more time with your loved ones are definitely some of the major benefits to working from home. However, after this initial bliss, a few months down the line, the disconnection you feel from your organization and the makeshift home office which now brings you continuous back pain mean the home office can lose its charm. As your trusted guide, Staples will turn your personal space into a comfortable, productive and connected workplace.
Embrace good ergonomics
Recently many employees have spent many hours on their kitchen table with an improvised desk chair hunched over a laptop; and that bad posture is having an effect on productivity. Taking the time to design a personal space that allows for less strain, good posture, fewer motions and better heights and reaches will help to boost every aspect of your working day.
Starting with the basics in ergonomics. Is your keyboard and mouse at the same level or below your elbows? If not, you may need to move locations to where they are. Are your feet flat on the ground? If not, you will need a footrest under your feet to raise the floor towards you. Using multiple screens or documents? You should be able to see all of your work without moving your neck too much. If you don't normally work from home, you probably use your office laptop and are looking down to use it. Protect your neck by investing in an extra keyboard, an adjustable laptop stand or monitor may seem unnecessary, but weeks and months on a laptop can lead to long term damage.
The discomfort that you're experiencing also has a lot to do with the chair your working from, and the strong likelihood that you can't adjust the height. "Take a moment to think about your specific requirements", says Ewout Paulusma, European Vendor Manager at Staples Solutions. "If you've been using your road bike recently, your lower back might just need that extra support that a lumbar adjustment can offer. Have you ever suffered from chronic neck pain? Then a recliner chair could be a strong match." That idyllic home office set-up is actually surprisingly simple to achieve if you get the dimensions right.
Working from home and need the correct computer accessories to keep you comfortable? Click here!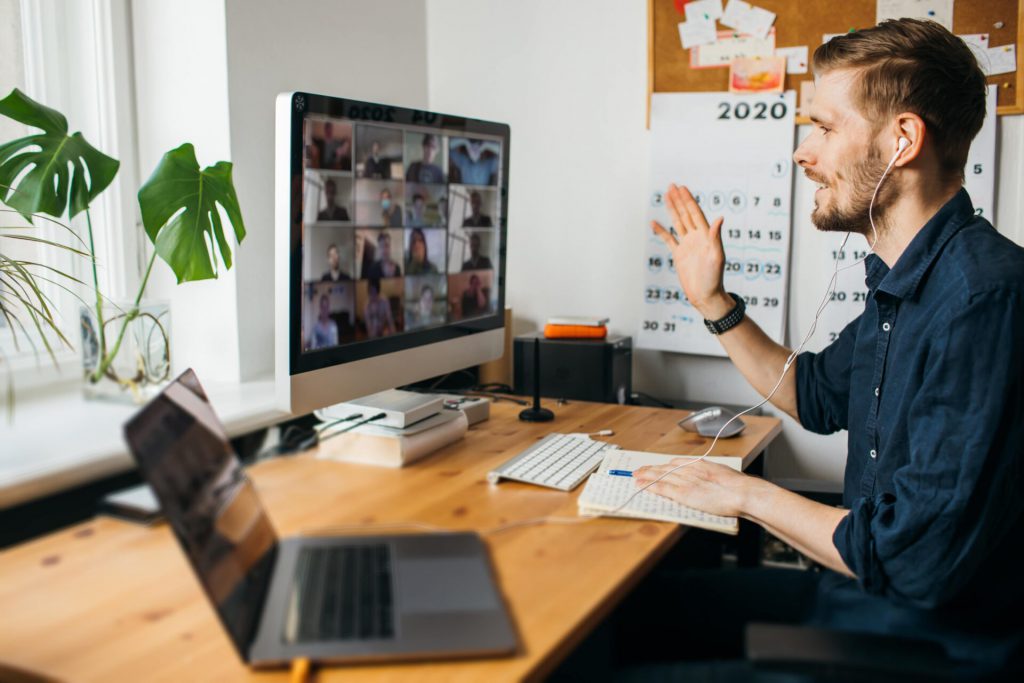 Boost productivity
As we have all worked from home recently we now realize more than ever the office was actually conducive to productivity; whiteboards and markers nearby to use for creative moments; writing material, notebooks and post-its available to write minutes and action points; a printer around the corner which magically never runs out of toner or paper; the office and your desk cleaned regularly; the bathroom paper towel and toilet paper dispensers never seem to run out; and when one needs to send a package or letter the right box or envelope size and labels are always available at the mail room or reception – the list goes on. We now have the need to re-create that productive environment at home as well.
Stay connected
When it comes to communication with colleagues, it's a great time to make use of the technologies available. While many debate whether conference calls lack the value of face-to-face collaboration, more and more organisations are adopting a 'remote first' strategy in this new world. "We need to take the learnings of the location-independent generation and apply them to the new digital workplace", says Paulusma. "Official team meetings need to exist alongside informal catch-ups where employees can check in with each other." To enable this, the personal space needs the right communication set up including a headset, laptop, monitor, sound system, and webcam. Working from the road or public transport may be more complicated, as the recommendations of masks may muffle our voice when using our smartphone, earphones and laptop on the move. Staying connected requires all the necessary equipment safely stowed in your laptop bag, along with your personal infection kit.
Stay in touch with your work colleagues and invest in a headset & webcam, explore our range at Staples UK!