How to take breaks and reenergize in the new office environment
Minimise social contact, avoid peak hours and try to touch as little as possible – suddenly the office lunch break has taken a stale turn. Yet, your breakroom, the area in your business where employees go to reenergize, is critical to enable businesses to create a balance between safety and serenity. As your trusted guide, Staples will walk you through the new breakroom recommendations.
How to serve coffee and lunch
Being in constant use, your office coffee machine attracts a lot of germs, therefore usage needs to be carefully managed by all users. "It's important to tackle the return to work in finite detail and baby steps, applying best practice to every appliance and cleaning product that your office owns." says Doni Lim, European Vendor Manager at Staples Solutions.
Ensure your office is well supplied with hand soaps & sanitisers
In a small breakroom there will be a requirement to indicate, through clear signage,  the number of people that are allowed in each area. As a high usage area, this breakroom will require a stringent cleaning regime either by employees or your cleaning team, with free standing touch free hand sanitizer available and anti-bacterial wipes and sprays.  Communal coffee cups will be a thing of the past, being replaced by dispensing machines using disposable cups. The clean key can also be used on any shared dispensing machines.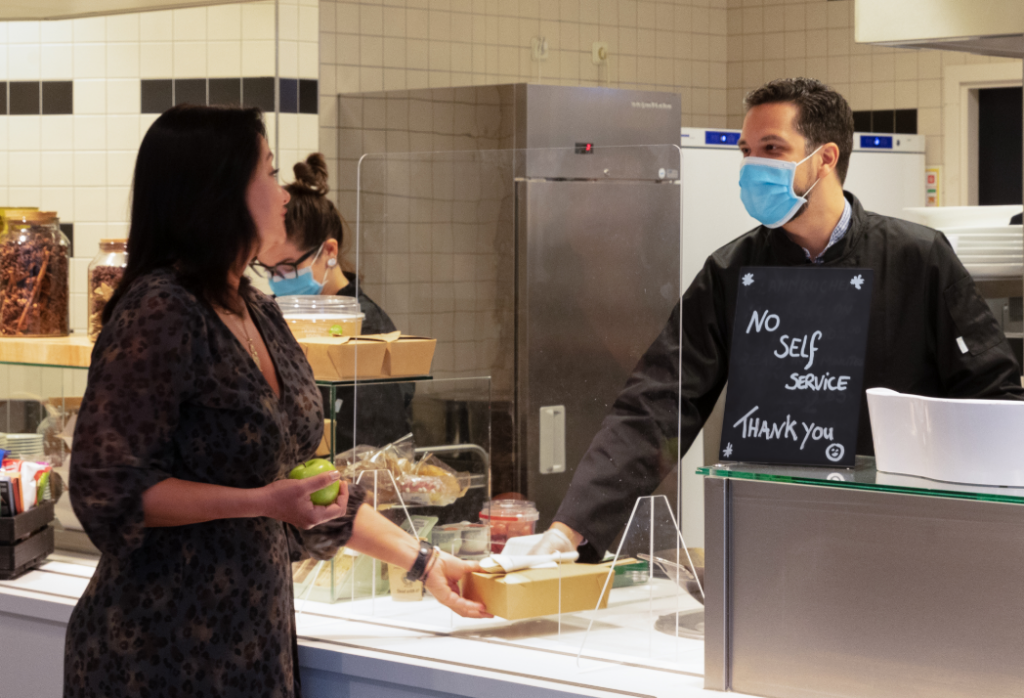 In a larger breakroom you will need to think of routing and instructions to ensure proper distance and health habits for employees and customers. Besides positioning free-standing, touch free hand sanitizers next to any entrance or exit point, organisations will need to review their cleaning protocol altogether. To ensure safe distancing, clear floor signage can be used to indicate walkways and manage safe queues. Protection screens can solve the spread of viruses between visitors and the kitchen and checkout staff. Chair covers can provide clarity on available seats maintaining the social distance, while protection screens on tables can prevent the spread of micro-organisms.
Find our range of floor signs and cones here!
Don't hold back when it comes to stocking the breakroom with tried-and-tested cleaning supplies but learn before you buy as not all disinfecting products work in the same way. For example, peroxide-based wipes are a great choice for fast and methodical cleaning of breakroom surfaces as they only need to come into contact with the surface for one to five minutes in order to be effective against a broad range of pathogens such as the common cold, flu and coronaviruses. Regarding cross-contamination, special attention should be paid to any stainless steel surface, popular in the catering industry, as research has shown that bacteria can survive for long periods on this metal.
Consider employee health and well being
Every organisation understands that employee health and wellbeing is a priority. Regular breaks are essential components of good health and well being, allowing employees the chance to escape the confines of their workstation to enjoy a deserved rest and afford the necessary social aspect of a breakroom. Employees need this breakroom and it needs to work, therefore, careful consideration of managing the canteen rush hour, with apps where you can pre-order your meal and determine your place in the queue are already in development. "Rather than eliminating certain foods, employers should find safer ways to prepare and serve them", says Lim. Pre-packaged meals are the epitome of the new normal, meaning those freshly baked muffins will still feature, provided the chef follows hygiene protocols and the muffins get wrapped individually.